the girl


Hey there i'm XinQi. 16-year-old shoujo/girl who loves anime and pretty much anything japanese. Chinese, born and raised in le tropical Malaysia.




chatbox

Leave a message here, won't you?
Click here to tag!







affiliates

Angel April Audrey Chaili Crystal(ii) Earnie Heyuan Izatty Jiaxing Karin Lhezs Luzhi Pau Rin Sharlotte Shii Sinying Susan




instagram

Follow me on instagram @helloxinqi








archives

· May 2009
· June 2009
· July 2009
· September 2009
· October 2009
· November 2009
· December 2009
· January 2010
· February 2010
· March 2010
· April 2010
· May 2010
· June 2010
· July 2010
· August 2010
· December 2010
· January 2011
· February 2011
· March 2011
· April 2011
· May 2011
· June 2011
· July 2011
· August 2011
· September 2011
· November 2011
· December 2011
· January 2012
· February 2012
· March 2012
· April 2012
· May 2012
· June 2012
· October 2012
· November 2012
· December 2012
· January 2013
· February 2013
· March 2013
· April 2013
· May 2013
· June 2013
· July 2013
· August 2013
· November 2013
· December 2013
· January 2014







jdrama review

Thursday, June 13, 2013

@

5:18 PM

`°•.¸¸.•°`

Herro guys im back... from lack of updates~~ I know I haven't been updating much during the holidays but i'll try my very best!! Recently my holidays were over and school life has started, and I have some movies, dramas and anime to watch yay I love these!!

Today's jdrama review is....*drumrolls*.... ITAZURA NA KISS - LOVE IN TOKYO!!

At a high school entrance ceremony, high school student Kotoko Aihara (Honoka Miki), who isn't that smart, notices pretty boy Naoki Irie (Yuki Furukawa). She falls in love with him immediately. Kotoko initially doesn't express her feelings to him, but finally has a chance to tell him how she feels. Unfortunately, Naoki turns Kotoko down, saying "I don't like dumb women."
One day, Kotoko Aihara's house is severely damaged by an earthquake. Until the house is rebuilt, Kotoko Aihara and her father decide to live with her father's friend. When Kotoko Aihara moves to her new temporary house, she is surprised to learn that Naoki Irie lives there as well.
I was recommended by Audrey cos she was like 'plzzz watch this..." haha whatever, so I gave it a shot. After a few minutes of watching I was immediately in love~~ Even though this is a remake, I still think this is the best remake of Itazura Na Kiss ever!! Honoka and Yuki are really no doubt the perfect couple in this drama, their acting were good too. Kotoko is so funny and adorable, some viewers thought her of being too annoying yet I don't think so. Naoki is perfect in almost everything and he looks so cool in every angle and his face is kawaii~~ :3 I somehow think he looks like some typical guy from an anime...

Rating :


Enjoy some gifs from tumblr~~~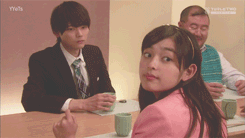 Jealous Naoki is jealous...about her looking at Kin-chan.



Kotoko's two best friends are like freaks but they're just so awesome~~




Sources from : link 1 link 2 link 3 link 4